BlidimaX black® – it's a revolution
After a month of research and test phase, we have achieved a small revolution: BlidimaX black® - the thermal protection mat with black outer layer instead of the well-known silver reflectors. A black surface for protection against the sun appears for a thermomatte first as the quadrature of the circle. After all, it is known that black materials are heated up, that is, are not practical.
In cooperation with a specialist supplier of technical fabrics and the patented coldblack®, we now offer thermal protection mats in black optics, which meet our high standards of protection against heat and UV radiation.
BlidimaX black® – from life-style to hunting supplies
The decisive difference: BlidimaX black® has incorporated a light, black fabric as the outer layer instead of the known silver foil. All other seven layers are maintained in a proven quality. And the new surface not only protects effectively against heat and UV radiation but also looks great.
With our BlidimaX® products on the market, is the most common request to us: "Can not you do it in black?" The interest in a more striking surface is great and not just a question of taste. For some professional groups, such as hunting and forestry, it is important not to attract attention on the ground. And also many offroaders and campers should be very pleasant.
Custom-made and proven quality
Like all our products, BlidimaX black® is an individual custom-made product. The proven features of our BlidimaX® products are retained without exception (further information is available here)
For BlidimaX black® you get the same color combinations for the inside of your vehicle, as they are also offered for BlidimaX®.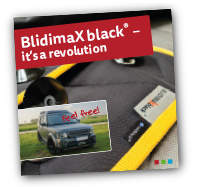 Also download the information flyer for BlidimaXblack® as PDF.
You will find this HERE.
If you require further advice or information, please feel free to
contact us at info@blickdicht-manufaktur.de
or by calling +49 21 31/2 94 95 05.