BlidimaX® – Highend screens
Feel free!
As an off road camper or RV traveler you're living in a confined space. Which makes it even more important that you feel very comfortable in it so you can enjoy your time off.
The BlidimaX® window screen protects you and your vehicle in three ways:
against heat from solar irradiation
against cold during freezing nights
against unwanted looks
BlidimaX® is completely non transparent, insulating and protects your personal space. Developed by experienced Outdoor experts, BlidimaX® meets highest quality standards in function, robustness and design.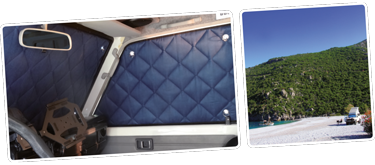 Each BlidimaX window screen is unique, which is handcrafted in the manufacturing plant. According to your individual needs and in all shapes and sizes. Always with certified UV protection with SPF 50+, this is very high.
No matter where you are on a tour, you will feel comfortable. With BlidimaX you are always on the right of the road.